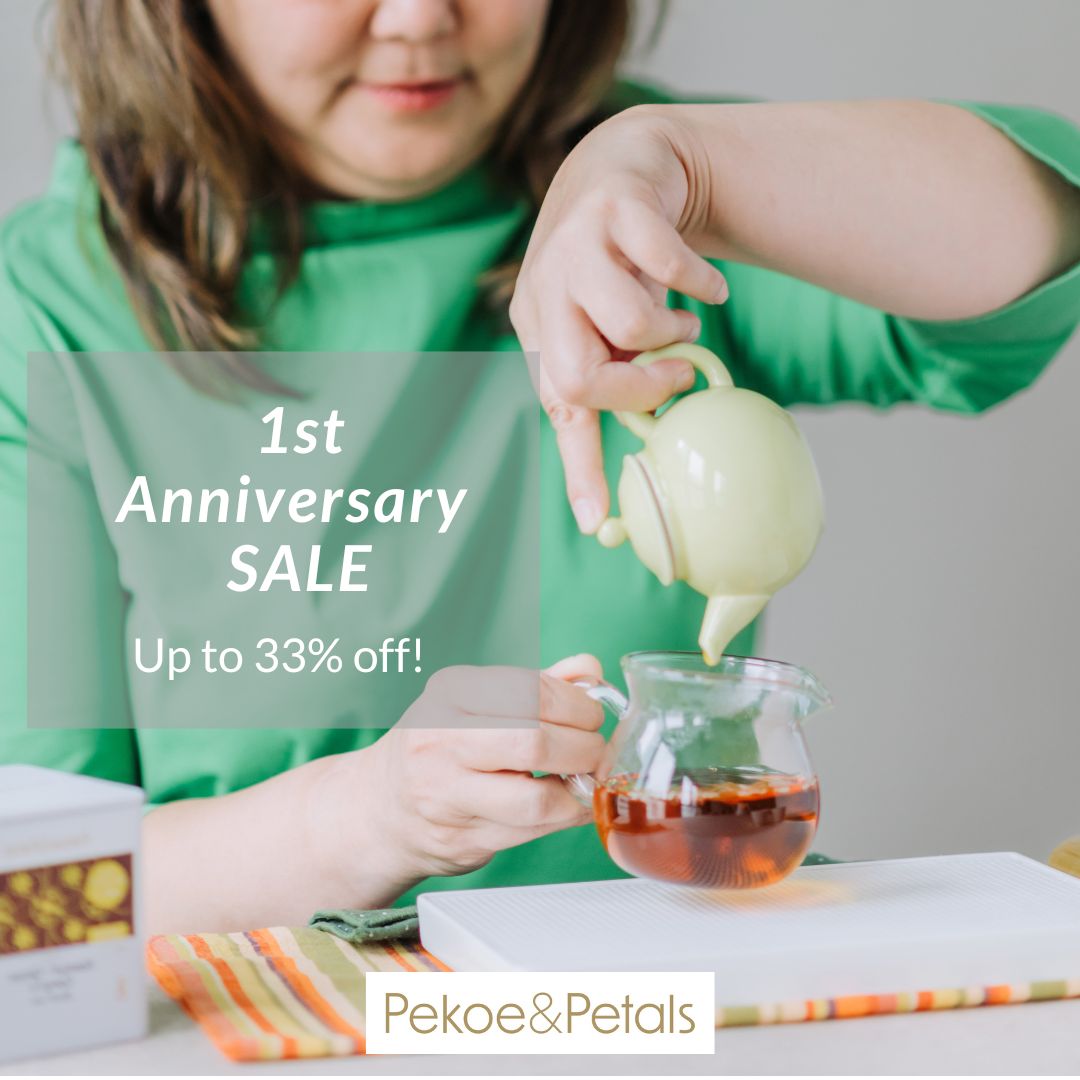 Celebrate Pekoe&Petals' First Anniversary with Our Irresistible Sale!
It's hard to believe that an entire year has passed since Pekoe&Petals was launched. The past twelve months have been nothing short of incredible, filled with enchanting tea, heartwarming moments, meeting new enthusiasts and sharing tea with amazingly supportive family and friends. As a token of our gratitude, we are thrilled to announce our First Anniversary Sale, where we invite you to celebrate this milestone with us in the most memorable way possible.
Unveiling Our First Anniversary Tea Sale
Starting from today, we are rolling out an extravaganza of tea deals and discounts that will make your taste buds tingle with excitement. This sale is our way of giving back to the tea-loving community that has embraced us since day one. Prepare to be amazed as we introduce irresistible offers and surprises!
Save up to 33% on our Teas!
During the sale, we are pleased to offer exciting discounts on all our teas, carefully curated by our professional tea taster. From classic pu'er to exhilarating Phoenix Dancong oolong tea, each sip is a delightful journey of flavors. Save up to 33% before prices go up further! Grab your favorites at incredible prices and stock up on your beloved teas for cozy evenings or refreshing summer days. 
Exciting Tea Giveaways and Surprises
As a token of our appreciation, we have planned exciting giveaways and surprises throughout the month of July. With each of your order, we will throw in great samples for you to try. We want to make sure that this anniversary sale is truly unforgettable for each and every one of our valued customers.
Join us as we celebrate a remarkable first year of Pekoe&Petals. With the First Anniversary Sale, we are thrilled to express our gratitude and invite you to indulge in the finest tea experiences at irresistible prices. Don't miss out on this opportunity to explore new flavors, stock up on your favorites. You won't regret it as prices are going up! Join us in raising a cup to the wonderful journey we have embarked upon together. See you at Pekoe&Petals, where tea dreams come true!
Terms and Conditions:
1. This promotion entitles customers to discounts of up to 33% on Pekoe&Petals tea from July 11th to July 24th, 2023 ("Offer").
2. The Offer is valid from 12:00 HKT on Monday, July 11th to 23:59 HKT on Monday, July 24th, 2023 ("Promotional Period").
3. Discounted items must be purchased on www.pekoeandpetalstea.com or at our Wanchai Tea Space. No promo code required. Items purchased from other online sites or offline resellers are not eligible for this Offer.
4. The Offer is not applicable for Tea Tasting & Brewing Experiences.
5. The Offer cannot be used in conjunction with other promotions or discounts and is not applicable to prior purchase.
6. The Offer is not transferable, cannot be sold and has no cash value. It is not valid with any other promotions, vouchers or gift cards.
7. Discounted items are subject to availability.
8. Discounted items are non-refundable, non-exchangeable and non-replaceable.
9. Pekoe&Petals reserves the right to amend or supplement these Terms and Conditions at any time without any prior notice. In the event of dispute regarding these Terms and Conditions, the decision of Pekoe&Petals shall be final.